If you are using Linq to SQL, instead of writing regular Linq
Queries, you should be using
Compiled Queries. if you are building an ASP.NET web
application that's going to get thousands of hits per hour,
the execution overhead of Linq queries is going to consume too much
CPU and make your site slow. There's a runtime cost
associated with each and every Linq Query you write. The queries
are parsed and converted to a nice SQL Statement on *every* hit.
It's not done at compile time because there's no way to
figure out what you might be sending as the parameters in the
queries during runtime. So, if you have common Linq to Sql
statements like the following one throughout your growing web
application, you are soon going to have scalability nightmares:

var query = from widget 

in

 dc.Widgets
                

where

 widget.ID == id && widget.PageID == pageId
                select widget;

var widget = query.SingleOrDefault();

There's
a nice blog post by JD Conley that shows how evil Linq to Sql
queries are: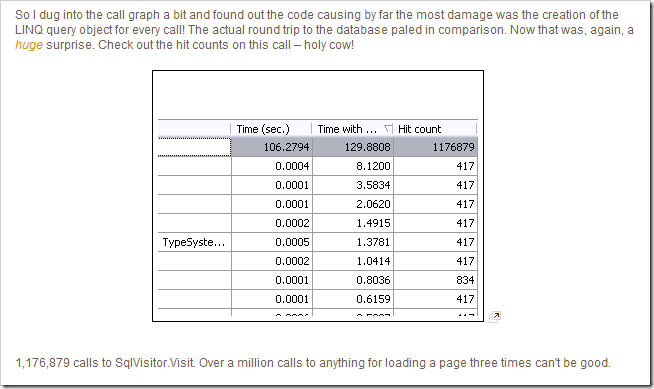 You see how many times SqlVisitor.Visit is called to
convert a Linq Query to its SQL representation? The runtime cost to
convert a Linq query to its SQL Command representation is just way
too high.

Rico Mariani has a very informative performance comparison of
regular Linq queries vs Compiled Linq queries performance: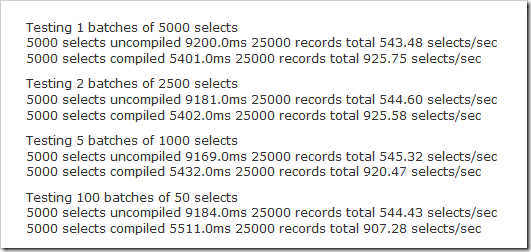 Compiled Query wins on every case.
So, now you know about the benefits of compiled queries. If you
are building ASP.NET web application that is going to get high
traffic and you have a lot of Linq to Sql queries throughout your
project, you have to go for compiled queries. Compiled Queries are
built for this specific scenario.
In this article, I will show you some steps to convert regular
Linq to Sql queries to their Compiled representation and how to
avoid the dreaded exception "Compiled queries across
DataContexts with different LoadOptions not
supported."
Here are some step by step instruction on converting a Linq to
Sql query to its compiled form:
First we need to find out all the external decision factors in a
query. It mostly means parameters in the WHERE clause. Say, we are
trying to get a user from aspnet_users table using
Username and Application ID:

Here, we have two external decision factor – one is the
Username and another is the Application ID. So, first think this
way, if you were to wrap this query in a function that will just
return this query as it is, what would you do? You would create a
function that takes the DataContext (dc named here),
then two parameters named userName and applicationID, right?
So, be it. We create one function that returns just this
query:

Next step is to replace this function with a Func<> representation
that returns the query. This is the hard part. If you haven't
dealt with Func<> and Lambda
expression before, then I suggest you read this
and
this and then continue.
So, here's the delegate representation of the above
function:

Couple of things to note here. I have declared the delegate as
static readonly
because a compiled query is declared only once and reused by all
threads. If you don't declare Compiled Queries as static,
then you don't get the performance gain because compiling
queries everytime when needed is even worse than regular Linq
queries.
Then there's the complex Func> thing. Basically the
generic Func<> is declared to
have three parameters from the GetQuery function and a return
type of IQueryable.
Here the parameter types are specified so that the delegate is
created strongly typed. Func<> allows up to 4
parameters and 1 return type.
Next comes the real business, compiling the query. Now that we
have the query in delegate form, we can pass this to CompiledQuery.Compile function
which compiles the delegate and returns a handle to us. Instead of
directly assigning the lambda expression to the func, we will pass
the expression through the CompiledQuery.Compile
function.

Here's where head starts to spin. This is so hard to read
and maintain. Bear with me. I just wrapped the lambda expression on
the right side inside the CompiledQuery.Compile function.
Basically that's the only change. Also, when you call
CompiledQuery.Compile<>,
the generic types must match and be in exactly the same order as
the Func<>
declaration.
Fortunately, calling a compiled query is as simple as calling a
function:

There you have it, a lot faster Linq Query execution. The hard
work of converting all your queries into Compiled Query pays off
when you see the performance difference.
Now, there are some challenges to Compiled Queries. Most common
one is, what do you do when you have more than 4 parameters to
supply to a Compiled Query? You can't declare a Func<> with more than 4
types. Solution is to use a struct to encapsulate all the
parameters. Here's an example:

Calling the query is quite simple:

Now to the dreaded challenge of using LoadOptions with Compiled
Query. You will notice that the following code results in an
exception:

The above DataLoadOption runs perfectly
when you use regular Linq Queries. But it does not work with
compiled queries. When you run this code and the query hits the
second time, it produces an exception:
Compiled queries across DataContexts with different
LoadOptions not supported
A compiled query remembers the DataLoadOption once its called.
It does not allow executing the same compiled query with a
different DataLoadOption again. Although
you are creating the same DataLoadOption with the same
LoadWith<>
calls, it still produces exception because it remembers the exact
instance that was used when the compiled query was called for the
first time. Since next call creates a new instance of DataLoadOptions, it does not
match and the exception is thrown. You can read details about the
problem in
this forum post.
The solution is to use a static DataLoadOption. You cannot
create a local DataLoadOption instance and use
in compiled queries. It needs to be static. Here's how you
can do it:

Basically the idea is to construct a static instance of DataLoadOptions using a static
function. As writing function for every single DataLoadOptions combination is
painful, I created a static delegate here and executed it right on
the declaration line. This is in interesting way to declare a
variable that requires more than one statement to prepare it.
Using this option is very simple:

Now you can use DataLoadOptions with compiled
queries.