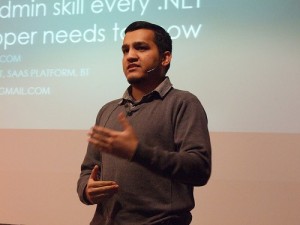 I am the Head of Engineering at B2C IT in BT, living in London, UK. As the title suggests, I get to do the cool stuffs at BT. You can see the latest and greatest technologies at work in our platform. Performance and Scalability challenges are one of my 5 a day.
BT is the largest telco in the UK and one of the largest in the Europe. Revenue: £18.017 billion (2013), Employees: 87,800 (2014).
I was born in Dhaka, Bangladesh. I hold a B.Sc in Computer Science and doing my M.Sc in Software Engineering at Oxford.
What have I been up to:
My book
Awards
11 times Microsoft MVP Award winner.
4 times CodeProject MVP award winner.
7 Best Article awards from CodeProject.
My Talks
Open Source Projects
MSDN Articles
Magazines
My Background
My programming life started at 10 when I won the Best Competitor award in the first Nationwide Programming Contest. My first startup, when I was 15, and was quite successful. We built 4 multimedia titles and sold in a CD. There was a fun app for pre-school kids to learn alphabets, rhymes, puzzles; one app for teenagers to learn Chemistry with animations, 3D illustrations and a sci-fi style user interface and one app for learning Astronomy with hundreds of videos and clips from Nasa, and one for Tourism in Bangladesh with interactive maps, nearly 400 popular attractions' photo and description. I built an HTML rendering engine that could render styled text, inline image and video – using Visual Basic 5. If you know VB 5, you would recognize that as a noble-prize candidate effort.
Then at 16, I joined an offshore dev shop that delivers Financial Analysis and Document underwriting software for financial institutes in USA. Our customers are Bank of America, US Federal Reserve Bank, CitiBank, WAMU, HSBC – you name it. I worked there for 8 years, working in 5 projects at different leadership roles. You would be surprised to learn what level of sophisticated software are running in large banks in USA that are from a third world country like Bangladesh. I have also worked for a team at HP Research Center where I have built a decision support tool for large customers to choose the right server hardware and network equipment based on availability, price and performance criteria. The goal was to capture the knowledge of senior infrastructure consultants into an intelligent app so that HP could offer a self-service solution to customers.
Some time in between, I did my second startup, a collaborative authoring platform for book publishers and authors, which was a total disaster. The USA counterpart took the code and left without giving me any money from the acquisition, taking advantage of the fact that I was below 18. My one year of hard work went to drain. I have learnt never to trust people from Las Vegas, duh!
Then I went to University to do my B.Sc. On my first semester, I proposed the University Administration a fully online automation system to do registration, student-teacher collaboration, take quizzes, publish marks, allow students to upload assignments to teachers; thus creating a complete online ecosystem (only to satisfy my hidden agenda to spend more time at IT department  than attending classes). Administration provided me everything money could buy and I have built the complete system over 3 years (skipping most of the CS lectures and quizzes, of course).
Then I graduated, co-founded my third startup called Pageflakes with my German friend and serial entrepreneur Christoph Janz. Former Head of My Yahoo! – Dan Cohen, joined our team as the CEO. We raised 1M Euro seed funding from leading VC Benchmark Capital, and subsequent $4M funding from them and eventually got acquired by Liveuniverse, which is founded by MySpace founder. It was an "ok" exit, certainly not fulfilled my shortcut way to becoming a millionaire, but a glamorous exit indeed. In the meantime, I have published my first book "Building Web 2.0 Portal" from O'Reilly in the USA (and now worldwide translated in some major languages).
After Pageflakes, I have partnered with another startup called Congral, in Bellingham, USA, where we built the first ever online Health Record Bank, with fully bi-directional sync of data with Microsoft HealthVault. You might be aware that USA, despite being the one of the most advanced countries, has little support for patients to get their health record out of hospitals, labs, clinics and access it online and have full control over their health records (as of 2011). We made it happen at Congral, for the first time, in several hospitals in Washington State, with State's grant and Microsoft's support. At the comfort of home, patients can now see what doctors prescribed, see their lab results, record their blood pressure/glucose etc and all of these are automatically available to anyone in the hospital who needs to see. No need to fill-up forms at the counter or carry your log books with you any more. No need to tell 911 responders, while you are having an heart attack, what allergies you have. Enter the Digital Health Care era. Moreover, we have built the first ever workflow assisted Patient pre-admission and post-discharge care transitioning system, powered by complex .NET workflows. Instead of a human being, a sophisticated system can keep track of your post-surgery actions, reminds you to take medications, manages your hospital visit schedule, keeps an eye on your blood glucose and alerts nurses/doctors when something goes off the chart. Your iPhone/iPad can become your personal nurse.
Finally, I got an offer from BT to join as the Chief Architect of SaaS Platform. We were a high tech platform at BT, where we delivered online experience for customers and Smart Clients for Sales and Service Agents, we have built and operated the Service Delivery Platform, Usage monitoring for Broadband, TV and CDN and the Wifi Lead to Cash Experience – BT Openzone, BTFON. We have built several rich Web 2.0 applications, millions of users hitting our portals, terabyte data processed and tallied every week – all the performance and scalability challenges you can take on.
I am lucky to be married to Saki (no, she's not a Japanese), whom I call Mother Teresa 2010, as she has the insurmountable amount of love and care for humanity to let me work late nights and weekends.
Here's my LinkedIn profile.
[recaptcha_form]